Chemo Care Kits: Behind The Scenes
Chemotherapy can be a tough road to travel, but our Chemo Care Kits can help make the journey a little bit easier.
We want to share more details about us and the beginnings of Chemo Care Kits, so we went straight to the source of the idea: Michelle Long, a breast cancer survivor who not only shared her journey with the world but also came up with the plan of creating Chemo Care Kits to help cancer warriors undergoing chemo.
We asked her a couple of questions, so read on!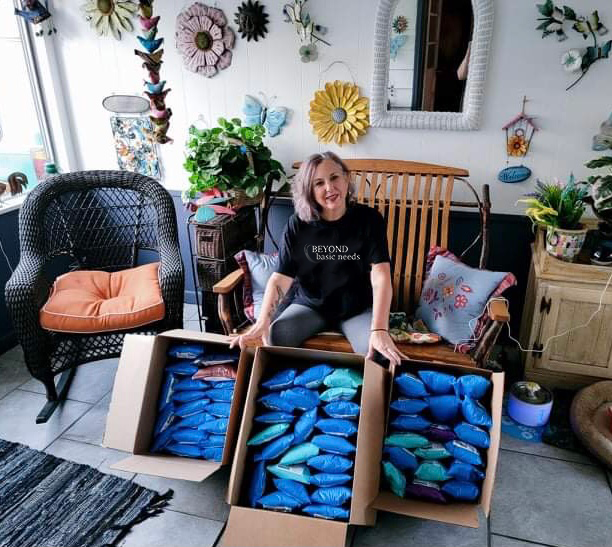 How did you come up with the idea of doing the chemo care kits?
I had stage 3 breast cancer. Someone sent me the port pillow, which was extremely comforting with the seat belt when I traveled to treatments. I started creating Chemo Care Kits with my daughter, and we began distributing them to women in my network who were also undergoing treatment. I added other comfort products based on what I felt I needed during chemo—comfy warm socks, lip balm, lotion, back scratchers, etc.
What was the motivation that got you started?
I wanted to start giving back as so many people had sent me gifts and pick-me-ups that I wanted to help. I also wanted to involve my daughter; she was my sewer at the time. Now I have another wonderful angel that helps keep our port pillow supply full.
How has it grown or changed since you started working with Beyond Basic Needs?
Now that I have partnered with Beyond Basic Needs, we can process many more kits. I could not afford to do this independently at the level we are processing these. I am also able to toss in more items with their financial help.
What is the story behind each chemo care kit item? How did you choose them?
The port pillow is key to each kit, and inspired the project. It velcros around the seat belt and protects the chemo port in the chest area.
Chemo dries the body out, so the lip balm and lotion were easy choices. Sometimes I include sugar-free hard candies or sugar-free drink powders to help with a dry throat. Your skin is itchy, so the back scratcher is nice, and you can't have enough comfy socks. If it is breast cancer, I include a lapel pin and a keychain. The kits are all not the same as they depend on inventory levels at the time of order.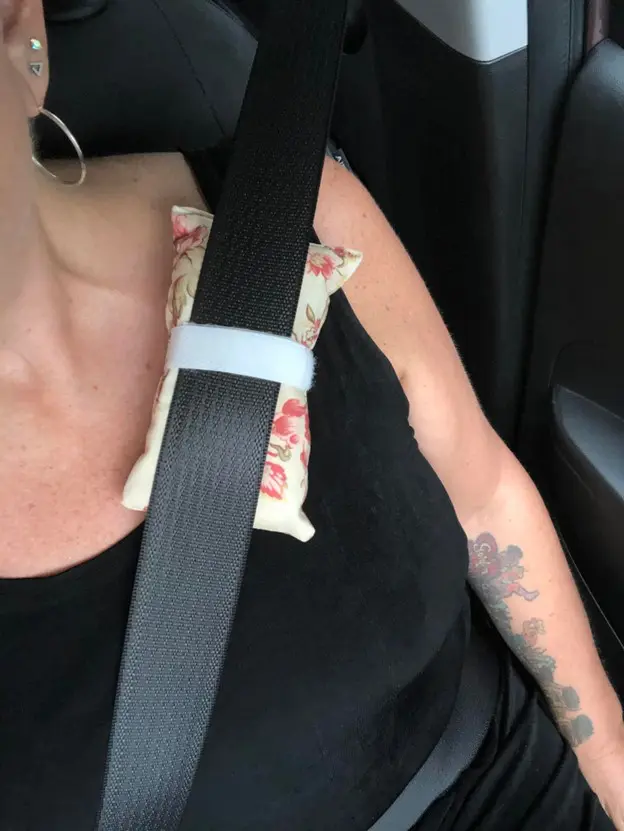 How do you feel about knowing you have helped over 300 cancer warriors through Beyond Basic Needs?
I love that we can reach so many more than I could on my own. With Jon & Rachel's backing, we have tripled the number of kits distributed. We believe these kits inspire, uplift, and help our community thrive during this challenging time.
What motivates you to keep going?
There are times when the kit is returned as the warrior lost their battle. I am no good for the rest of the day when this happens. It reminds me of why I keep going with this project.
I am still here.
Chemo Care Kits are just a small thing we can do as survivors to give back. And as a bonus, I get to have a cool relationship with Rachel, who gets me.
From Beyond Basic Needs, if you ask us ''what goes into a Chemo Care Kit?'' our answer is:
A lot of love and a whole lot of care. That's because each and every one of our kits are lovingly assembled to bring comfort, support, and hope to patients undergoing chemotherapy.
We are honored to be able to support cancer warriors, and we hope that our kits can bring them just a little bit of joy during their treatment journey.
So if you or someone you know is undergoing chemotherapy, be sure to check out our Chemo Care Kits.
More from Beyond the Blog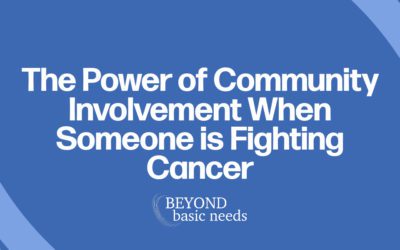 Fighting cancer is a challenging journey that requires a lot of strength and support. When someone is diagnosed with cancer, it affects them, their loved ones, and the entire community. This is why community involvement can significantly support cancer warriors and...