How Can I Start a Fundraiser To Benefit Beyond Basic Needs
At Beyond Basic Needs, we believe no one should go through cancer treatment alone, which is why we work daily to provide a better today for cancer warriors undergoing chemo.
But we can't do it without your help.
Today is the perfect time to start supporting cancer patients, and one way to do it is by creating a fundraiser to benefit Beyond Basic Needs.
With your help, we can continue to provide Chemo Care Kits to cancer warriors. Here are a few easy ways to get started:
 1) Pick your fundraiser
There are many ways to fundraise for Beyond Basic Needs. Some popular methods include Facebook and Instagram Fundraisers, bake sales, car washes, and business donations.
ONLINE FUNDRAISERS
There are a ton of great online platforms for fundraisers these days. Do some research and pick the one that you're most comfortable with.
Make sure to choose a platform that allows donors to give easily and securely. Some great platforms are Facebook and Instagram; click the links below to learn how to set up fundraisers on both:
How to Set up a Fundraiser on Instagram
How to Set up a Fundraiser on Facebook
BAKE SALES
Bake sales are a great way to raise money for Beyond Basic Needs. People love buying homemade goodies, and all of the proceeds from your bake sale will go towards helping cancer survivors and their families. To make sure your bake sale is a success, be sure to bake enough for everyone who comes! You can also sell baked goods that are pre-packaged so that people can take them to go.
CAR WASHES
Car washes are another great way to fundraise for Beyond Basic Needs. This is a great option if you live in an area with good weather year-round. To run a successful car wash, be sure to advertise in advance and have plenty of supplies on hand, such as soap, sponges, and towels. You can also offer additional services, such as vacuum cleaning or window washing, for an extra fee.
BUSINESS DONATIONS
If you own a business, you can donate a portion of your proceeds to Beyond Basic Needs. This is a great way to give back to the community and support a worthy cause at the same time. You can promote your donation by hanging flyers in your business or by mentioning it on social media. Be sure to let people know how much of their purchase will be going towards the cause so they can make an informed decision before they buy.
2) Set your goal
Once you've chosen your platform, it's time to set your fundraising goal. Remember that even a tiny amount can make a big difference for our organization.
3) Spread the word
No matter which method you choose, be sure to promote your fundraiser in advance so that people know when and where it will be taking place. You can promote your fundraiser by hanging flyers around your neighborhood or by posting about it on social media.
4) Thank your donors
Lastly, don't forget to thank your donors! A simple "thank you" goes a long way in showing them how much their support means to you—and us here at Beyond Basic Needs.
Our Mission
For Cancer Warriors undergoing chemotherapy, we provide Chemo Care Kits. We believe these kits inspire, uplift, and help our community thrive during this challenging time. 100% of all donations to Beyond Basic Needs goes to fulfilling these kits at no cost to the recipient.
In addition, we connect those in need to the technology that makes it easy to manage and get help for basic services including food delivery, cleaning services, transportation services and other basic needs at no charge to the individual. We believe these services are imperative to improving the quality of life after a medical event.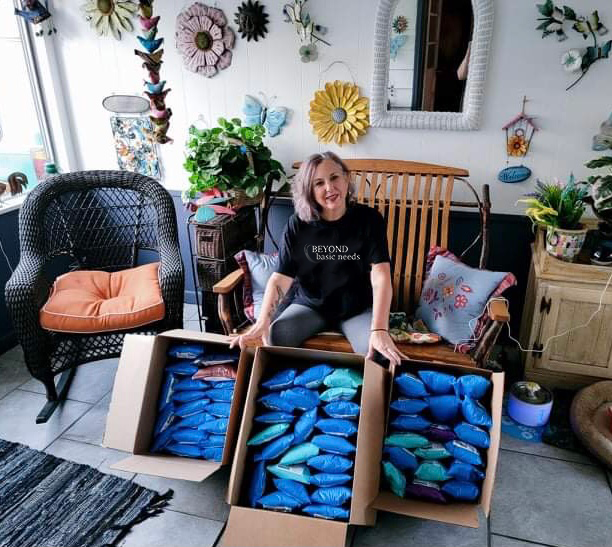 Cancer Warriors Supported
States Across the US PLUS Canada and the UK Chemo Care Kits
A Chemo Care Kit is designed for cancer warriors undergoing chemotherapy. Each kit contains a port pillow, comfy socks, lip balm, and a variety of goodies that these warriors deserve.
A Port Pillow protects the port from the seat belt.
A Message From Our Founder
I'm Rachel Minion, the co-founder of Beyond Basic Needs.
I was diagnosed with Cancer of the Appendix seven years ago in my mid-thirties. The minute you hear the word cancer, your life changes in ways only a cancer warrior can describe. Not only did it change for me, but for my entire support network.
After I recovered, I dedicated my life to helping other cancer warriors and friends in my support network.
In our attempt to change the world, my husband and I created Beyond Basic Needs to help our community thrive.
More from Beyond the Blog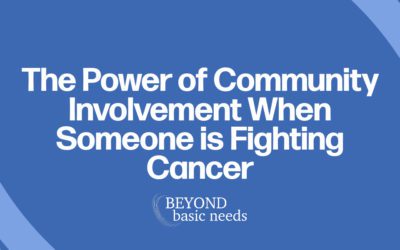 Fighting cancer is a challenging journey that requires a lot of strength and support. When someone is diagnosed with cancer, it affects them, their loved ones, and the entire community. This is why community involvement can significantly support cancer warriors and...
The Internal Revenue Service (IRS) recognizes Beyond Basic Needs Inc. as a Section 501(c)(3) public charity. Our Federal Tax ID Number is 85-3075681. Contributions to Beyond Basic Needs Inc. may be eligible for tax deduction in the U.S.A., please consult your tax advisor for eligibility. No goods or services were offered or provided in exchange for this contribution.